Philanthropic Projects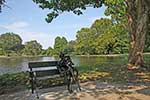 Metairie Woman's Club has the belief that one must earn the money, and not simply donate money, that it contributes to its philanthropic recipients each year. To achieve that goal, a "Christmas in October" has been held for the past 40 years with all items for sale being hand crafted or sewn or painted by the members. It is a unique fund raiser and one that the community looks forward to each year.
In recent years, funds have been garnered also through a "Day at the Races" at the New Orleans Fair Grounds and club participation in attending performances and sharing the profits with the Jefferson Performing Arts Society.
In 2009 Metairie Woman's Club began a Scholarship Program for young women enrolled in Metairie high schools. Eligibility includes academic excellence, community service and school participation. Each high school in Metairie is asked to submit an application for the recipient of the year. A committee from Metairie Woman's Club reviews all applications and decides upon the recipient. The scholarship of $2500 is sent to the college of the young woman's choice to be used for her college education.
---
Sponsors of the 2022 "Christmas in October" fundraiser benefitting Jefferson Children's Advocacy Center, Pennies for Bread of St. Joseph Abbey and The Servants of Mary, Ministers to the Sick:
Jefferson Parish Sheriff Joseph Lopinto
Public Service Commissioner Eric Skrmetta
Jefferson Parish President Cynthia Lee Sheng
Tim Temple
District Attorney John Belton of the Louisiana 3rd District
Louisiana House of Representatives Speaker Clay Schexnayder
---
Metairie Woman's Club has given financial grants to the following organizations for its charitable and generous work throughout the New Orleans metropolitan area. Each year the Club chooses three organizations to whom they present grants:
ACCESS
Angels' Place
Association for Retarded Citizens
Battered Women of Jefferson Parish
Cafe' Hope
Children's Crisis Program
City Park's Antique Carousel
Class for Blind Children
Covenant House
Crescent House
East Jefferson General Hospital Infusion Center
EJGH Nursing Scholarships
Encouragement Funds for Future Citizens
Greenwalt Adult Daycare
Harahan Elementary School
Hazel Park/Hilda Knoff School for Hearing Impaired Children
Hospice New Orleans
Jefferson Center ARC
Jefferson Parish Children's Council
Jefferson Community Charter School
Jefferson Performing Arts Society
Lafreniere Park Playground for the Handicapped
Magnolia School, Inc.
Metairie Playground
Metairie Senior Center
Methodist Home for Children
New Orleans Mission
Odyssey House of LA
Ozanam Inn
Padua House Pediatrics
Parents of Retarded Children's School
Pennies for Bread of St. Joseph's Abbey
St. Michael's Special School
Strive, Inc.
UNO Special Education Grant
Vietnam Veterans of America